Pediatric Chiropractic at Avise Chiropractic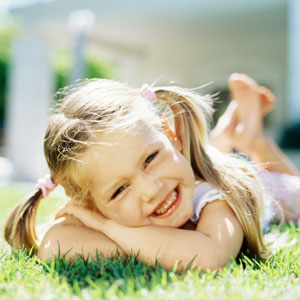 A well-adjusted child tends to be a healthy child. The team at Avise Chiropractic loves to see kids coming in the office who are happy and healthy. Parents tell us all the time that their child seems to sleep better, digest their food properly, and doesn't suffer from common childhood problems since starting chiropractic care.
The Importance of an Optimally Functioning Nervous System
Chiropractic is about the nervous system and a child's nervous system is growing exponentially every day. And we need to make sure that it's free to grow without interference or impingement.
Some parents believe that if there's no pain, there's no problem. But many times kids won't complain or if they do, those complaints get ignored. In infants, for example, we see colic, chronic ear tugging and fussiness. Those symptoms usually indicate there's interference in the nervous system so the baby's unable to find comfort. That's why it's a good idea to have your child checked regularly so we can identify any issues.
We Are Here for Your Family
All ages of kids are welcome here, from newborn babies to teenagers. We've even had parents drop by with their little one on the way home from the birthing center!
Some kids we see are struggling with issues like bed-wetting, which can go on for years if untreated. Others are infants with torticollis who struggle to nurse on one or both sides. Some babies have colic and tend to fuss even though there doesn't seem to be anything wrong. Know that all you have to do is come in with your child and we will take great care of you.
A Parent's Testimonial About Our Care
Our son has a neuromuscular disorder and so we came to Dr. DJ to help with preventative maintenance for scoliosis and other spinal deformities. I know that because of the chiropractic care he has not had very much increase in his scoliosis. Our overall experience has been wonderful. Dr. DJ and all his staff are very kind and friendly. We come see Dr. DJ at least once a month and if anything he is a trusted friend that I feel comfortable with taking care of my whole family. We love Avise Chiropractic!"

Jodie P.
Here are some of the most common benefits that we see in children who get adjusted:
Improved digestion
Better sleep
Less fussiness
Heightened immunity
Better growth and function
When a baby or young child is adjusted, all that is needed is a touch of the fingertips or a handheld instrument. Babies can even sleep right through their adjustment. When your child is older, if they feel nervous about care, we will never force them to get adjusted. They can visit us as many times as they like until they feel ready for an adjustment.
We do find, however, that most kids have a great experience here. We often hear them ask, "When can we go back?!"
Enjoy a Healthy Pregnancy
Before your little one arrives, chiropractic care can help you experience a more comfortable and healthier pregnancy. We enjoy taking care of pregnant moms because so often they suffer from lower back pain, sciatic type pain and other uncomfortable issues.
Prescription or over-the-counter painkillers aren't an option during pregnancy. Chiropractic care is completely safe and provides natural pain relief.
Why would a child need chiropractic care?

Many parents don't think to have their children's nervous system checked because they believe that chiropractic is about neck pain, back pain, headaches, etc. Chiropractic can help keep a child's nervous system healthy, which, in turn, can promote optimal overall health.

Can chiropractic care benefit young athletes?
Yes. We see many late elementary and early middle school athletes. Nowadays it seems kids are starting to play on select teams even in third or fourth grade. And so there's a lot of bumps and bruises that happen just from being an athlete.
That's why it's important that these young athletes get checked, not because they necessarily have pain, but to make sure everything is functioning properly-not only in their nervous system but in their musculoskeletal system to reduce the risk of injury.

How do you put children at ease?
Is an adjustment painful for a child?

No, not at all! Whether we're seeing children or adults, we provide gentle and effective adjustments. There is never any pain involved.

How often should my child come in for care?

It depends. Some parents bring their child in for wellness adjustments to help their child stay healthy. Others may bring them in more frequently if their child has a specific issue going on. In cases like that where active care is required we will share that with the parent.

Start Today
Would you like to help your family be at their healthiest? Contact our Auburn team now to schedule an appointment!
CONTACT US

Pediatric Chiropractor in Auburn, Lakeland South, Sumner WA | (253) 939-8144