Auto Accident Care at Avise Chiropractic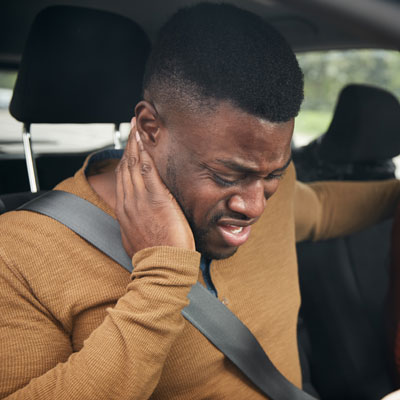 A collision can be a huge trauma to your body and mind. One of the biggest dangers lies in not getting the care and attention you need after an accident. What people don't realize is there's damage that's done in an auto collision, even a low impact collision such as a fender bender.
Oftentimes they'll feel like, "Oh yeah, I'm a bit sore and achy," but they don't really know what's happened inside them. For example, if you have whiplash that is left untreated, your spine will begin to degenerate. Once degeneration sets in, there is no way to reverse it.
Common Complaints Following a Car Accident
Chronic headaches
Pain and spasm in the upper shoulder
Numbness down your arms
Whiplash
An inability to focus
After an accident, we suggest that after you rule out life-threatening injuries or broken bones, you schedule a checkup at Avise Chiropractic. We can make sure there is no underlying damage that will compromise your health further down the road.
Helping to Navigate Your Recovery
It's been our experience that for those who have never been in an accident, they really don't know what to do, where to go or how to best manage their health care. So typically, we see that they'll go to Urgent Care or the ER sometimes. They'll be given a muscle relaxer, a painkiller and an anti-inflammatory and sent out the door.
These individuals are kind of like a rudderless ship in an ocean with no navigation. When Dr. Avise does get to see them, he likes to give them the ability to navigate their care and answer their questions.
More than Pain Management
While chiropractic care is extremely beneficial in alleviating pain following an auto accident it does so much more. Not only can it helps you heal faster, but it can allow you to return to your pre-injury condition. It's about function years later, not just mitigating the pain right now.
By getting early and proper care shortly after an accident, you can avoid early-onset degeneration and osteoarthritis. When normal function has returned to you that can mitigate any chronic complications of an acute injury.
Please bring in the accident report, your driver's license and the information of the at-fault driver. Know that we have digital X-rays on-site, so you do not need to have these images taken before your visit.
Dr. Avise may recommend that you get a massage or have acupuncture done alongside your chiropractic care. It's our goal to make sure you heal as quickly as possible. Your recovery will depend on the nature of your accident and your injuries, typically taking 3-6 months in total.
During this initial appointment, we will gather pertinent paperwork information. We want to get documentation about what you're feeling and how the accident happened. Then you can expect the following:
Consultation
Exam, including MyoVision ScanVision™ sEMG
Computerized range of motion
X-rays, if necessary
A palpatory evaluation
An adjustment if needed
Once the paperwork is completed your visit takes 40 minutes.
These visits range between 7-15 minutes, depending on questions you may have. Dr. Avise always will take the time to address whatever concerns you may have. "I try to give patients an opportunity to help themselves at home and in their normal activities of daily living." He is passionate about sharing with patients any small corrections they can make to help themselves get better, not just for now, but for the long-term.
Book an Appointment
If you've been in an auto accident, don't delay seeking care. The earlier you come in to see us, the quicker we can get you on the path to recovery.
CONTACT US

Auto Accident Chiropractor in Auburn, Lakeland South, Sumner WA | (253) 939-8144